Welcome to Dynamics Physical Therapy's resource on Dupuytren's Contracture Surgery.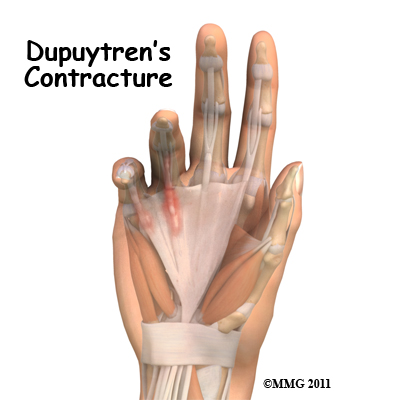 Dupuytren's contracture is a fairly common disorder of the fingers. It most often affects the ring or little finger, sometimes both, and often in both hands. Although the exact cause is unknown, it occurs most often in middle-aged, white men and is genetic in nature, meaning it runs in families. This condition is seven times more common in men than women. It is more common in men of Scandinavian, Irish, or Eastern European ancestry. Interestingly, the spread of the disease seems to follow the same pattern as the spread of Viking culture in ancient times. The disorder may occur suddenly but more commonly progresses slowly over a period of years. The disease usually doesn't cause symptoms until after the age of 40.

Both non-surgical and surgical treatment options are available for Duputryen's contracture, but this guide will focus on the surgical option. For more information on the non-surgical options, refer to A Patient's Guide to Dupuytren's Contracture.

In regards to surgical procedures a partial palmar fasciectomy remains the "gold standard" procedure, although at earlier stages of this disease a less invasive surgical procedure called a needle aponeurectomy may be done.
It should be noted that surgical treatment does not always stop or cure this disease process, so recurrence can occur.
This guide will help you understand:
what your surgeon hopes to achieve

what happens during the operation

what to expect after the procedure

Dynamics Physical Therapy's approach to rehabilitation after surgery